Sports Day 2023!

Today (12th July) was our annual Sports Day! And from the start of the day there was already some competitive talk coming from pupils and teachers alike.
After break time we all headed up to the sports field to see what races had been set up for us by Mr Brannan, who didn't disappoint. He had set up a wide variety of tasks involving skipping, throwing, balancing, spinning and more. Not forgetting a final game of cricket – of course.
Teams were picked and we had 4 strong sides, however there can only be one winning team, which was… PINK LADIES!!!! This team had 4 of our pupils alongside Miss Broadbent, Mrs Rogers and Mr Tostevin. A special shout out to Team 2, who tried their very best but just couldn't quite get enough 1st place points to top the Pink Ladies.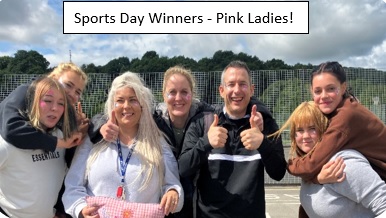 We took our lunch up with us and at half time spread everything out buffet style.
After lunch, pupils and staff went into the sports hall to play cricket, which was big hit – much to Mr Brannan's delight.
We are very proud of all the pupils that participated, it was great to see them smiling, having fun, being competitive but also encouraging their peers and teachers.        
We are looking forward to next years already!